Recent Website Updates
Please enter your email address below and click "subscribe" to be kept informed of significant future updates.
Latest Update 17th Oct 2014
Our Availability List (also linked from the 'Retail' Tab above) is now illustrated! Best of all is that the photos are linked to higher resolution versions with a height of 650 pixels to give you a better idea of what the plants will look like when you order from one of our Distributors.
Earlier Updates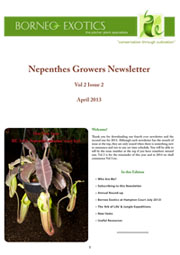 Earlier Items
About 130 new high quality photos have just been added to our Catalogue Page. These show many hybrids that were released in recent years and now they have matured, so their full splendour can finally be seen. New photos are clearly marked as new.
Find us on Facebook!
Please go and take a look and we do hope you 'like' us!
Our Sister Site
The Bio-Dome is a new, innovative and very simple growing system that enables anyone, anywhere, to grow Nepenthes plants at home, in the office, greenhouse or garden, with minimal care and maintenance.

Nepenthes Forums
Almost anything you need to know about Nepenthes is available on the various forums. Here are a few of the best, not in any particular order:
Carnivorous Plants in the Tropics
International Carnivorous Plant Society
Carnivorous Plant Webring

Next Site

International Carnivorous Plant Society
Visitors to this site
Gold Medal at Hampton Court!
We were thrilled and honoured to be awarded a coveted Gold Medal at the July 2013 Hampton Court PalaceFlower Show in London. Here are a few sample photos and there are many more linked from the Galleries page.
See many more photos at the new Galleries page
Testimonials